Looking for a gourmet a la carte restaurant in Sudbury, Derbyshire? Then the Royal Boar at The Boars Head Hotel is for you! Our a la carte restaurant combines the finest fresh ingredients, with the extensive knowledge and skill of our expert chefs, to give you a delicious menu of English and international cuisine. We pride ourselves on our homemade menu, which includes a selection of extremely popular homemade desserts, definitely not to be missed if you've got a sweet tooth! Our restaurant is designed to combine a relaxing atmosphere with a fine dining feel to give you the most enjoyable dining experience. Our a la carte restaurant in Sudbury, is the perfect venue for a range of occasions from a mid-week romantic meal for two, to a celebratory dinner for the whole family. Whatever your requirements, we'll do our best to satisfy them.
A La Carte Restaurant Sudbury, Derbyshire
We offer a varied fixed price menu which changes daily, giving you ultimate variety even if you visit us often. Our evening fixed menu consists of four courses, and within this there's a variety of delectable meat, fish and vegetarian options which are sure to make the mouth water. We also offer a lunch time and Sunday lunch fixed price menu if you want something lighter. Our fixed price menu has become an extremely popular option in our a la carte restaurant in Sudbury, Derbyshire, but we also offer a full menu for you to choose from, which is available every evening, click here to see our full menu.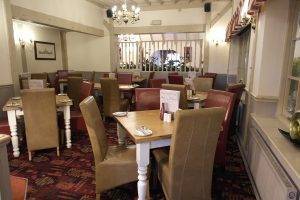 Find out more about our A La Carte restaurant in Sudbury, Derbyshire
To see our A La Carte menu and to find out more about our restaurant, then follow this link. If you would like any further information about our A La Carte menu in Sudbury Derbyshire, or you would like to book a table, then please get in touch! Our expert hospitality team are on hand to help you in any way they can. We offer vegetarian and gluten free dishes, and most dishes can be adapted to individual requirements if required. Why not extend your visit with us and take a look at our hotel!