With 2021 coming to an end, it's important that we see it out in style. It may not have started how we wanted it to, with going straight into a lockdown, and not being able to see our family and friends. But as we wave goodbye to this difficult year, make sure you do it with a touch of glitter.
All That Glitters
This year at The Boars Head Hotel, our New Years Eve theme is All That Glitters! Just how it should on New Year's Eve! Why not grab some of your nearest and dearest, throw on your glittery dresses, suits, ties or just about anything else you can find!
On The Night
On the night, we will have a range of great drink offers that compliment your food nicely, including a few offers for the designated drivers! Not to mention some great music to have your dancing the night away. Whatever your music style, you'll be amazed by how much of it you will enjoy! So make sure you have comfy shoes on to get on that dancefloor!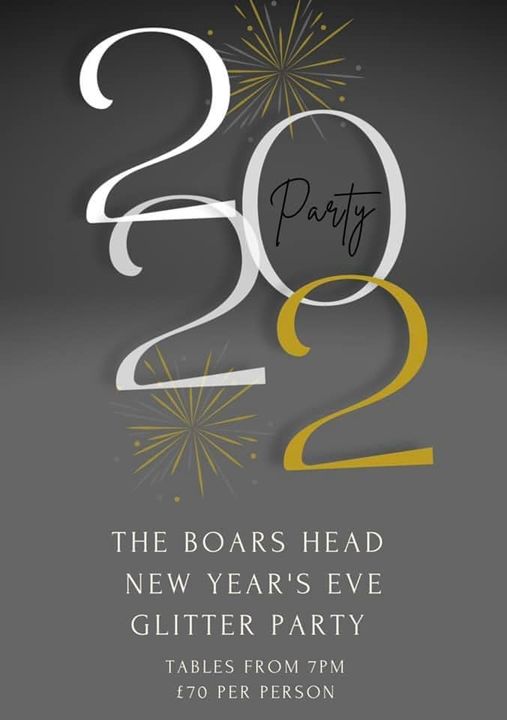 Dining With Us
The best way to start the festivities is to start the evening off with some fine dining. Our New Year's Eve menu includes three glorious courses for you to tuck into! To start, we have a fabulous selection, including a tasty soup, meaty dish and a vegan option!
Thai Sweet Potato & Carrot Soup – sour cream & kale crisps
Hot Smoked Trout Tartare – capers, creme fraiche, toasted bread, rocket
Oxtail Tortellini – oxtail, porcini mushroom ragout, pine nut, brown butter & parmesan sauce
Mulled Wine Jelly – melon cocktail, cardamom & thyme biscuit
For mains, we have moved away from turkey! Not only will our chefs have seen enough turkey, but we feel like you might have seen enough too! So we have carefully selected some succulent and warming dishes:
28 Day Aged Rib Of Beef – beef dripping potatoes, creamed potato puree, ale & thyme Yorkshire pudding, beef & stock jus
Lamb Rump – potato fondant, mint gel, cabbage, port jus
Pan-Seared Duck Breast – blackberries, leeks, crispy duck leg fritter, cherry reduction
Seabass Fillets – smoked haddock croquette, charred corn, pea puree, spinach, basil, hollandaise sauce
Stuffed Portabello Mushroom – crispy goats cheese, spinach & Madeira sauce
For afters, you get to choose from a great selection of fresh pudding from our menu and specials. So make sure you save space for something sweet!
If you fancy joining in with our All That Glitters party, get in touch today! Our team of glittery elfs will help to get you booked in!