Are you looking for wedding venues in Sudbury? If so, look no further! Here at JC Hotels, we understand that your wedding day is the most magical day of your life so it's important that you choose the right venue. For this reason, we take great pride in being associated with The Boars Head Hotel, one of the leading wedding venues in Sudbury.
Situated within 8 and a half acres of beautiful Derbyshire countryside, The Boars Head is the perfect setting for your big day and is great for your photos – no matter what the season, sunshine or snow, you're guaranteed a beautiful venue for your big day! The historic hotel also houses an a la carte restaurant and Olde World bar which are incredibly suited for functions, providing stylish areas for eating and dancing.
We've hosted some beautiful weddings at The Boars Head and this has made us one of the most sought after wedding venues in Sudbury.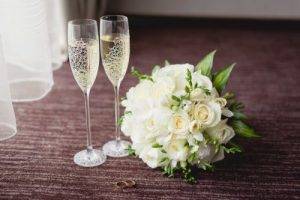 Why Choose Our Wedding Venue in Sudbury?
Another one of the many benefits of choosing our hotel as your wedding venue in Sudbury is our 23 stylishly decorated bedrooms. These provide the perfect accommodation for your guests, so your party can carry on as long as you wish without guests having to worry about getting home! We also offer a fantastic champagne breakfast which is often a popular choice for happy couples to continue the celebrations. During your stay with us, you will also benefit from our delicious food, cooked by our expert chefs with the finest fresh local ingredients. In addition to this, we will also work with you to develop a special wedding menu specific to your requirements. To put it simply, at The Boars Head Hotel, we guarantee to help you and your guests experience a day that you wont forget.
Get in Touch for Our Wedding Venues in Sudbury
We are renowned for being one of the best wedding venues in Sudbury and our team is incredibly welcoming and will endeavour to give you the best day possible. From planning to the big day itself, we will guide you through the process of hiring our beautiful venue. If you're interested in using our hotel as your wedding venue in Sudbury, then please get in touch. We can give you any advice you may need, and provide you with a quote for your perfect wedding day!