There's often chatter at this time of year about what you can do on those nice weekends in the warm weather, or where you can go to spend the day. Well just a short distance from The Boars Head Hotel is Alton Towers. You might have heard of it already. You might even be finding yourself here in the hung for Hotels near Alton Towers. Well, let us tell you all about it.
Thrill Seekers
Alton Towers. The home to some of the best rollercoasters and thrill rides here in the UK. Well known attractions include the Smiler, Oblivion and Nemesis. If you are a true thrill-seeker, you might already have a favourite, but some of the team here at The Boars Head are more inclined to head to the rapids than be dropped from a height! Of course, there are things for all ages. So if you are looking to take the whole family, there's Ceebeebies land for tiny explorers, there's the runaway mine train for the bigger kids, and of course, the teens can head off to the best rides they can find, don't forget to give Th13teen a try! It's not all about fast rides, of course, there's also the Sea Life Sharkbait Reef to have a nosey around. Dont forget to pick out your favourite resident! Remember to take a stroll around the towers and the gardens too, they make for some wonderful pictures for the memory box.
Hotels Near Alton Towers
With hotels at Alton Towers certainly being a little more pricey than many would like, its certainly a benefit when you can find a hotel nearby, that ticks all the boxes, without the price tag! Here at The Boars Head Hotel, we boast a luxurious stay, with incredibly comfortable beds, with an affordable price tag. The perfect place to set up a base when Alton Towers is on the cards. If you are staying the night before your day of thrills and adventure, you'll certainly want to make the most of our breakfast! Breakfast is included in your stay, so why not join us in the dining area and have your fill, you'll certainly want to sample our award-winning sausages. And you'll still have time for it to go down before heading onto your first rollercoaster! Our spacious rooms are inclusive of a complete ensuite with both a bath and shower included if you are looking for a quick wash, or a complete soak after running around a theme park all day! Our comfortable rooms are the perfect place to decompress at the end of the day. We even have free wifi for those who can't be without it any longer. Or you can turn the technology off, and simply lay back and relax.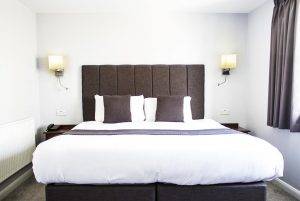 Local Area
Aside from being within close proximity to Alton Towers, The Boars Head Hotel is close to the Peak District National Park. This incredible stunning area has a vast array of views, wildlife and accompanying natural features. So once you've spent one day at a theme park, taking in all the thrills, why not spend the next enjoying the natural features that our local area has to offer. Take advantage of our free parking and leave your car with us while you head out exploring.
Gastropub Sudbury
After a long hard day of rollercoasters, or nature walks, why not fill up in the best gastropub in Sudbury? As far as hotel restaurants go, we are above and beyond anything you can find locally. With a vast selection of freshly cooked dishes on our menu, we have something to suit all taste pallets. So why get your table booked, and it will be ready and waiting for you. Unsure what time you will be back and ready to eat. No worries, just let the team know and we will do what we can for you!